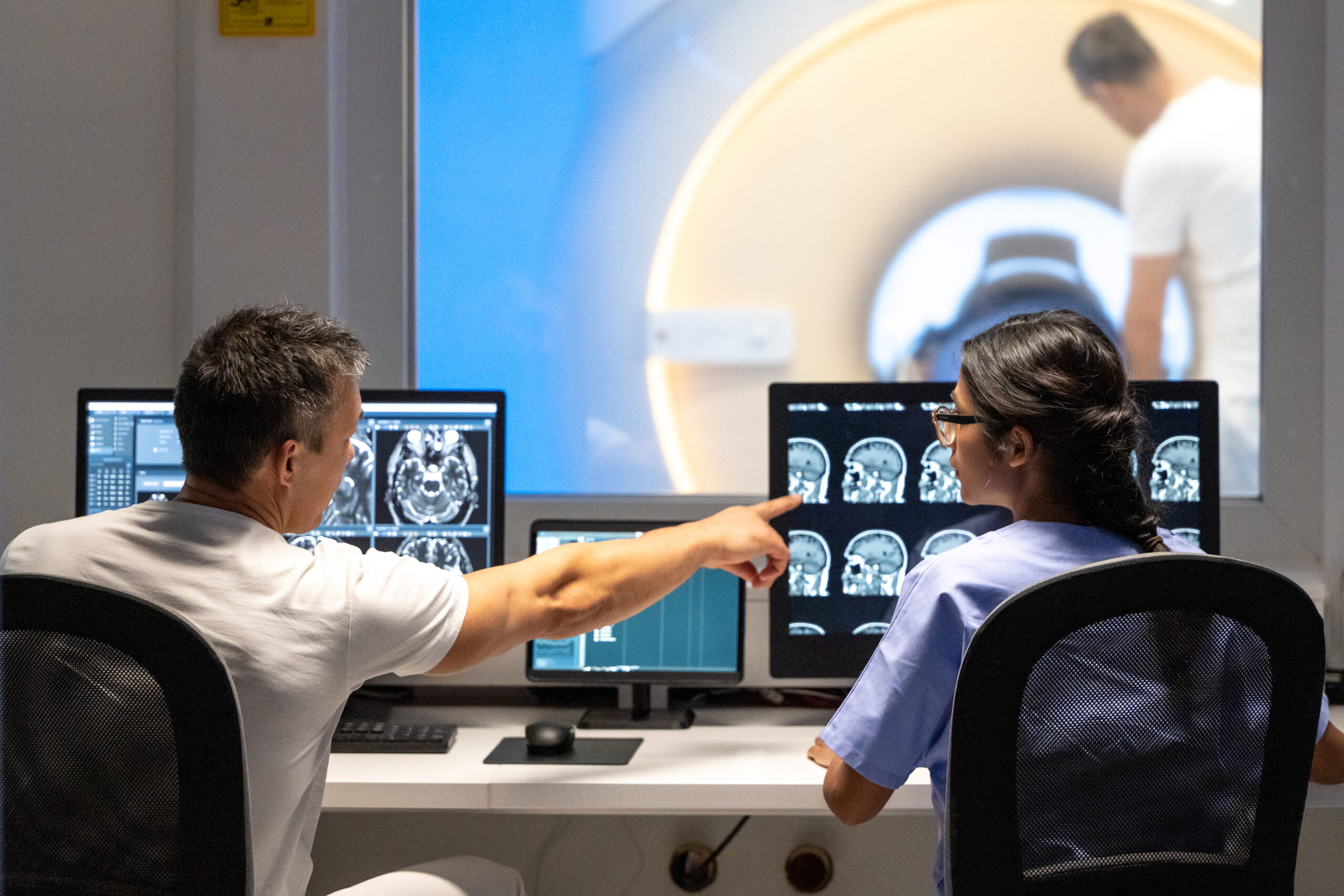 STAGE speed and image clarity: Greater than the sum of its parts
By: Karen Holzberger, President & CEO of SpinTech MRI
Assumptions about the traditional trade-offs between brain MRI exam speed and image quality are so well established that they comprise an unwritten law of neuroimaging. Our STAGE software effectively repeals that law. It also introduces a new way of thinking about how to take greater advantage of the power of MRI to reduce exam times, improve output quality and make quantitative MRI tools practical for everyday clinical use.
STAGE uses physics to shorten brain scan times by 30% and improve image clarity and contrast from virtually all brands and models of 1.5T and 3T scanners. That generates synergy, i.e., when various factors interact to produce results that are greater than the sum of the parts. For example, in addition to faster scans and better images, scanner throughput increases, diagnostic confidence grows, patient comfort improves, and revenue rises. There are other downstream benefits as well, like lower sedation rates, fewer inpatient stays to wait for a scanner slot, and even making it possible to handle more scans per day during staffing shortages.
The point is, imagine what you could do if the traditional assumptions about MRI trade-offs no longer applied.
No more "zero-sum" thinking
Traditionally, the MRI speed-quality trade-off was considered intrinsic and unresolvable. That resulted in zero-sum approaches to find workarounds and improvements. For example, imaging facilities have invested in mobile, dockable exam tables and redesigned imaging suites to save literal steps. AI image reconstruction models also aim to improve the quality of output generated with subsampled data acquired during shorter exams. Such methods can produce benefits but they often have limited scalability or applicability in other facilities.
Such zero-sum approaches have been warranted primarily because of the lack of practical alternatives. More importantly however, such approaches cannot address broader and increasingly urgent clinical and operational challenges by working around — rather than with –the quantitative nature of MRI.
The STAGE approach
STAGE Improves image clarity by increasing contrast, increases signal to noise ratio, and reducing inhomogeneity increases image clarity and contrast and improves signal-to-noise ratio and inhomogeneity. It applies advanced post-processing techniques to generate qualitative and quantitative output as needed. Those include susceptibility weighted imaging (SWI) for better detection of disease biomarkers, and workflow-integrated access to practical tools such as quantitative susceptibility mapping (QSM).
Radiologists have long recognized the potential value of quantitative MRI. But such techniques have been impractical outside of research settings primarily because an MRI physicist was needed for protocolling and interpretation. In fact, STAGE has long been used by neuroradiology researchers worldwide to investigate ways to improve the diagnosis and treatment of Alzheimer's, dementia, Parkinson's, MS, TBI, stroke, epilepsy and other diseases.
Why now?
Over the past few years, we saw a growing need for STAGE outside of research environments due to diverse clinical, demographic and other factors. Those included the development of new treatments for Alzheimer's and other neurological disorders, an aging patient population, and health system staffing and financial challenges that worsened during the pandemic. That led us to adapt and enhance STAGE for clinical use and obtain FDA 510(k) clearance.
STAGE is now being deployed to improve clinical and operational efficiency at imaging facilities ranging from community hospitals to some of the largest health systems in the U.S. Faster scans using STAGE can fundamentally improve MRI efficiency and economics. For example, testing on six different scanners at a busy U.S. health system with high neuroradiology volumes showed that time savings created 3 to 4 new scanning slots per scanner per day. That analysis showed projected annual revenue increases of $240,000 for each 1.5T system and $320,000 for each 3T system.
Re-thinking what's possible
Ultimately, STAGE is an innovation that uses trusted and familiar science to make it possible to re-think how to use MRI more efficiently to care for patients and improve outcomes.
We invite you to learn more about STAGE by visiting us at booth 2808 at RSNA 2023. You can also contact us to arrange a consultation, or visit our website to review the results of STAGE testing or watch a recent Imaging Wire interview with SpinTech MRI CEO Karen Holzberger and neuroradiologist Dr. James Backstrom, MD.
Contact Us