Strategically acquired gradient echo (STAGE)-derived MR angiography might be a superior alternative method to time-of-flight MR angiography in visualization of leptomeningeal collaterals
By: Karen Holzberger, President & CEO of SpinTech MRI
Author(s): Ruowei Tang1,2 & Qingqing Zhang1,3 & Yongsheng Chen4 & Song Liu1,3 & Ewart Mark Haacke5 & Bin-ge Chang6 & Shuang Xia1
Journal: European Radiology
Published: 2020
Read Full Paper: https://link.springer.com/article/10.1007/s00330-020-06840-7
Abstract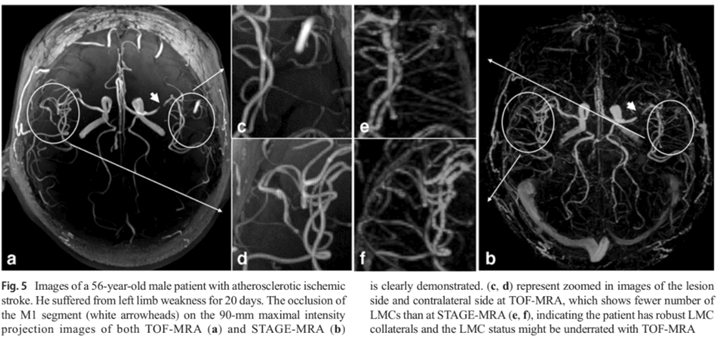 Objectives
This study aimed to compare the performance of strategically acquired gradient echo (STAGE)-derived MR angiography and time-of-flight MR angiography (TOF-MRA) in visualization of leptomeningeal collaterals (LMCs).
Methods
Between May 2018 and January 2020, 75 participants (47 healthy volunteers and 28 intracranial atherosclerotic disease [ICAD] patients) undergoing TOF-MRA and STAGE-MRA were prospectively included. Image quality was scored at the internal carotid artery (ICA) terminus, proximal middle cerebral artery (MCA), and LMCs. Quantitative analysis included calculation of contrast-to-noise ratios (CNRs) in the M1–4 segments and number of LMCs counted in the line signal intensity profiles. Comparisons of image qualitative scores, CNRs, and number of LMCs were calculated using the Wilcoxon rank-sum test.
Results
Image qualitative scores were significantly higher in STAGE-MRA than in TOF-MRA for the ICA terminus, proximal MCA, and LMCs (ps < 0.05) in 75 participants. When referred to digital subtraction angiography (DSA) in 25 ICAD patients, STAGE-MRA showed higher qualitative scores only at LMCs. CNRs in the M1–4 segments were significantly higher in STAGE-MRA than in TOF-MRA (218.7 ± 90.7 vs 176.2 ± 72.6, 195.7 ± 86.0 vs 146.6 ± 71.7, 176.4 ± 71.6 vs 125.8 ± 61.1, 126.2 ± 62.9 vs 78.8 ± 43.6; all ps < 0.001). STAGE-MRA showed more LMCs (11.4 ± 3.4) than TOF-MRA (8.4 ± 3.3) with p < 0.05.
Conclusions
STAGE-MRA might be superior to TOF-MRA in qualitative and quantitative assessment of LMCs in both healthy volunteers and ICAD patients; thus, it may serve as an alternative method in evaluating LMC.
Contact Us